Genuine Parts
Engineered by FUSO with passion and precision just like your truck, to give you the best in quality & reliability. This means you can rely on increased longevity, availability, as well as enhancing the resale value of your vehicle. By choosing Fuso Genuine Parts you will benefit from maximum performance and safety at all times. The availability of the required genuine parts determines the downtime of your vehicle. Turn to your Mitsubishi Fuso dealer for quick supply of the genuine parts needed to keep your truck running.


The benefits of Fuso Genuine Parts
Oil Filters
Oil filters trap impurities from the engine oil to prevent deterioration of the oil in order to maintain smooth operation of the engine. With its larger filtration areas, Mitsubishi Fuso genuine oil filters offer superior filtration, yet they resist clogging and are able to trap impurities without restricting the oil flow.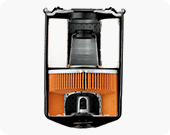 Fuel Filters
Fuel filters clean unfiltered fuel before it enters the fuel supply system by trapping impurities such as paint chips, dirt, and rust particles caused by moisture in the steel tank.
The efficient removal of these impurities will prevent rapid wear and failure of the fuel pump and injectors. The fine filtration of the durable and clog-resistant genuine fuel filters ensures smooth engine performance and a longer engine life.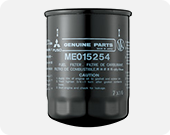 Air Filters
Air filters play a key role of providing clean and sufficient quantities of air to the combustion chamber of the engine, by removing harmful impurities such as sand, metal particles, carbon and cement dust. Such impurities, if mixed into the engine oil will hasten oil deterioration and wear of areas that rub together. Extensively tested for effectiveness and durability, genuine air filters will help extend the life of the engine as well as improve fuel economy.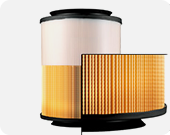 Brake Linings
To ensure consistently sharp and safe braking without excessive wear or brake fade, brake linings must be capable of surviving extremely high temperatures and repeated use.
Genuine brake linings have been extensively tested for durability, wear characteristics, noise, and vibrations for stable and consistent performance, even at high speeds.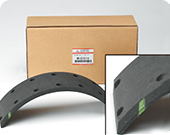 Brake Pads
Brake pads are a crucial part of the braking system. By coming into contact with the brake disk rotor, brake pads convert the vehicle's kinetic energy into heat energy to slow or stop the vehicle. Extensively tested for temperature resistance, performance consistency, noise, and durability, genuine brake pads ensure balanced, smooth, safe braking.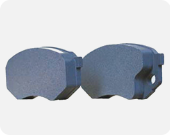 Clutches
Clutches play an important role of transmitting or cutting off power from the engine to the transmission whenever your vehicle is starting, accelerating, decelerating, or stopped. It also has a fuse-like ability to cut engine power quickly to prevent serious damage to the drive train.